Master Of Business Administrator
Its two-year Master of Business Administration (MBA) is the flagship programme of the Institute. it is designed to enable students to acquire the skills and capabilities that will enable them to reach responsible Global positions in management.
The number of applicants admitted to this programme is limited to around 60. the Programme revolves around the principle that world-class business leaders are not mass-produced; they are nurtured and developed with personalised care and attention, in small work groups and teams, and in a practical, application-oriented user-friendly environment.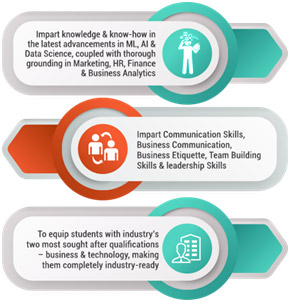 The programme lays the foundation for conceptual and analytical reasoning, and gives the students an insight into the dynamics of the business environment.
It prepares students to manage and lead in global business scenario which is getting increasingly complex and dynamic.
The programme design is inspired by management practice rather than ivory tower academics By Dr.Babasaheb Ambedkar Marathwada University. The course material and design is oriented towards current and emerging issues in management.
Developing skills in leading and teamwork is an important facet of the programme. This anticipates practices in many of today's successful organisations. The interactive skills of effective communication, conflict management, negotiation and mobilising individuals towards common goals are the essential ingredients of effective management.
There is a strong emphasis on project work as a part of the regular courses at the Institute. While working on projects, students are required to interact with managers from the industry. On an average, a student graduating from the institute would have carried out many projects, usually live, involving industry interaction and support.
The MBA lasts four semesters, spread over two years, with a one summer project,one implant training project & one mini project work in between the two years.
The first year students are exposed to basic concepts in the areas of Marketing, Finance, Human Resources Management, Stastical methods,Economics, Optimization Techniques,Research Methodology,Managerial skill Development,Organisational Behaviour,Operations and Behavioral Sciences, etc through the 'core courses'. These lay the foundation for all the functional areas of management help develop problem solving skills.
In the second year, students specialize in functional areas of their interest. There is greater emphasis on the application of knowledge gained in the form of projects, group exercises and case discussions.
Students are encouraged to take up dissertation work and to do a project on 'Contemporary Concerns' under the guidance of faculty.
The MBA, Programme Structure is conceived in such a way that learners would gain knowledge of Business Analytics, Artificial Intelligence and Business handling tools extensively and at the same time acquire a wide range of managerial capabilities while specializing in main stream areas like Human Resource Management, Marketing Management and Financial Management. The Programme is conceived as a full scale Business Master's Programme combined with Master's level exposure to Business Sciences. It is this combination which makes this Programme unique. The Programme has been meticulously designed to equip students with knowledge and skills in business sciences such as Project Planning, Research Methodology as well as the use of analytical tools – SPSS, Data Mining and Social Media Analytics.
MBA Programme, increase the Communicate effectively in a variety of formats. It Identify the key issues facing a business or business subdivision. It also help to Utilize qualitative and quantitative methods to investigate and solve critical business problems.
We can able to solve business problems&Evaluate and integrate ethical considerations when making business decisions.